'Bird bangers': Abingdon officials to deploy pyro to run off vultures circling Green Spring Road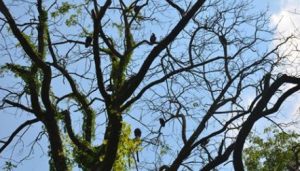 There's a fowl problem in Abingdon and town officials are bringing out the 'bird bangers' to take them out.
The f-o-w-l is a gang of vultures that have prompted several complaints from residents in the Green Spring Road area. For the next two weeks, crews will be employing tactics recommended by the US Department of Agriculture to hopefully prompt the flock to fly elsewhere.
Those measures include using pyrotechnics during bird roosting times that Abingdon officials said occur during some morning hours and in the evening.
(PHOTO: Town of Abingdon / Facebook)