TN US Sen. Lamar Alexander encouraging President Donald Trump to wear a mask amid recent COVID-19 spike across the US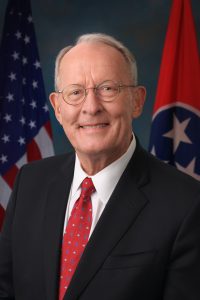 Outgoing Tennessee US Senator Lamar Alexander lobbied for President Donald Trump to start wearing a face covering during an appearance Sunday morning on CNN Inside Politics.
"I think it would be a sign of strength if he (President Trump) would from time to time wear a mask and remind everyone that it is a good way to deal with this disease," Alexander said.
Alexander, who's chairman of the senate health committee, said by wearing a mask, the Commander-in-Chief could help to end a political debate that Alexander describes as those who are for President Trump don't wear a mask, and those against President Trump do wear a mask. CDC health guidelines and even some state mandates call for the action at least when in public.
Alexander also feels Tennessee has done a reasonable job reopening with testing readily available even with a recent spike of coronavirus cases in the state.
"I think our pace (testing) is about right from my vantage point. It's concerning though when the number of hospitalizations go up and I think we just have to watch it very carefully," said Alexander.
Photo Courtesy: US Sen. Lamar Alexander Official Photo