CARES Act funding grant awarded to Washington County, VA; some small businesses eligible for funding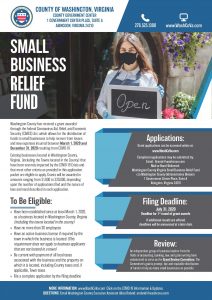 Certain Washington County, VA small businesses will be eligible for funding thanks to a grant awarded to the county from the CARES Act.
County officials say businesses impacted financially by the ongoing pandemic that meet criteria such as businesses in operation since March 1st, those that have no more than 30 employees, and have an active business license with a town within the county if required, will be eligible for funding ranging from $1,000 to $20,000. The amount of funding will be allotted based upon the number of applications filed and the nature of loss and need described in each application.
Applications can be accessed online and the deadline for the first round of grant awards is July 31st.
Full eligibility requirements and ineligibility categories are listed below:
Eligibility criteria:
*Have been established since at least March 1, 2020, as a business located in Washington County, Virginia (including the towns located in the county)
*Have no more than 30 employees
*Have an active business license if required by the town in which the business is located (This requirement does not apply to business applicants that are not located in a town.)
*Be current with payment of all local taxes associated with the business and the property on which it is located, including County taxes and, if applicable, Town taxes
*File a complete application by the announced due date
Ineligible categories include, without limitation, the following:
*Individuals
*Non-profit organizations
*Sponsorship for conferences, golf tournaments, or other events
*Construction for buildings or remodeling projects unless such construction or remodeling is specifically related to prevention of spread of COVID-19
*Capital funding campaigns
*Tax payments
*Damages covered by insurance or reimbursed by any other program or grant
Photo Courtesy: Washington County, VA