Newport man dies after drowning in Utah State Park waterway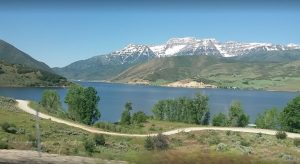 A Newport, TN man has died after drowning at a Utah State Park.
Officials say Daniel Thompson, 71, was boating with friends and family around 1:30 p.m earlier this week near Wallsburg Bay and Rainbow Cove at Deer Creek State Park. A news release says his hat had fallen into the water and Thompson jumped into retrieve it. Thompson was not wearing a life jacket and was unable to stay afloat according to a report.
A member of Thompson's group tried to assist, but was unsuccessful, prompting the group to call 911. State park rangers and a dive team were called into search, with the dive team locating Thompson's body, approximately seven hours after the incident occurred.
Photo Courtesy: Google Maps