UPDATE: Suspect accused of shooting two Wythe County, VA deputies released from hospital, now in jail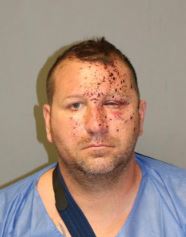 A former Daytona Beach, FL police officer charged with eight counts of attempted capital murder after allegedly shooting two deputies in Wythe County, VA is now in jail.
Virginia State Police say Ricky Delk, 41, was released from the hospital after being treated for serious injuries and is now incarcerated at the New River Valley Regional Jail. The officer-involved shooting happened late Tuesday night when police were responding to a domestic dispute at a home on Whippoorwill Road. Wythe County deputies say Delk fired shots and struck two officers before they returned fire and hit Delk.
Both officers were treated for their injuries and released. The investigation into the shooting is ongoing.
Photo Courtesy: New River Valley Regional Jail