Johnson City Schools release remote learning guidelines via YouTube video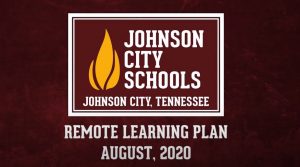 School officials in Johnson City have issued remote learning plans for families choosing the online route amid the ongoing COVID-19 pandemic.
During a 17 minute YouTube video presentation, leaders outlined options for families with K-6 grade students to choose a nine-week or 18-week learning option, while 7-12 grade students only have an 18-week learning option. Those families can decide to return to the classroom only after that selected time frame has elapsed. Kindergarten students must spend at 20 hours per week in remote learning, while 1-12 grade students must spend 32.5 in remotely learning per week, per requirements from the state board of education.
Among student expectations laid out by the school system includes the following:
*Attend classes, daily, as identified in the weekly schedule
*Have a quiet workspace where distractions are limited
*Give their best effort and best online class behavior
*Learn to use all digital tools
*Complete activities and work assigned by teachers
*Stay in contact with teachers by email or through Canvas
Among parent expectations laid out by the school system include the following:
*Set up a daily schedule for your family
*Provide student with a work space with limited distractions
*Get familiar with the digital tools your student will be using
*Monitor student's engagement in the work
*Reach out to the teacher if your student is confused or you are unable to help them
*Provide some experimental learning- Math and Science in the kitchen or take a nature walk
Additionally, all students who have chosen the remote learning option will be able to participate in athletics and extracurricular activities that they are eligible for. When they participate in those activities on campus, students will be required to comply with school safety protocols.
A link to the full YouTube video is available by clicking here.
Photo Courtesy: Johnson City Schools via YouTube