Rogersville woman charged with child abuse in 2019 death of her 8-month old son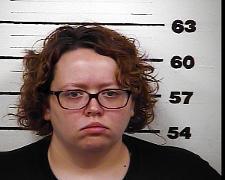 A Rogersville woman is facing aggravated child abuse charges in the death of her 8-month old son in 2019.
A grand jury presentment alleges that Jennifer Elise Smith, 33, abused or neglected Malcolm Smith from June 26th-June 30th. 8-month old Malcolm died a little over two weeks later on July 19th at East TN Children's Hospital, according to an online obituary.
Jennifer Smith was arrested Wednesday morning by the Hawkins County Sheriff's Office on a warrant for the aggravated child abuse charge. She is scheduled to be arraigned on October 9th at 9:00 a.m in the Hawkins County Criminal Court.
Photo Courtesy: Hawkins County Jail