Frats targeted by chancellor while UT deals with 600 virus cases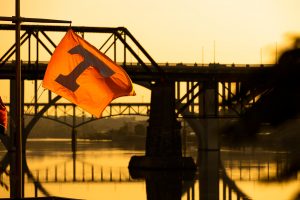 Further precautions and rules to curb COVID cases on the University of Tennessee campus are being prepped by Chancellor Donde Plowman for later this week.
"Our case counts are going up way too fast," the chancellor said. "…The fact remains that we are having a significant issue with a small number of students."
The Knoxville school's fraternities were directly targeted in Plowman's address on Tuesday which included the news of 600 confirmed virus cases at UT with 592 students now in isolation.
Plowman says disturbing details have been linked to the greek community including spaces being rented off-campus for parties with no masks and members instructing others to not get tested for COVID or share results with health officials.
"Actively working to avoid isolation and quarantine is reckless," she said.
The chancellor said the university has reserved more rooms for student isolation spaces but she said reserving an entire hotel will not meet current caseloads.
(PHOTO: UT Knoxville)