Virginia Lt. Governor Fairfax enters 2021 Governor race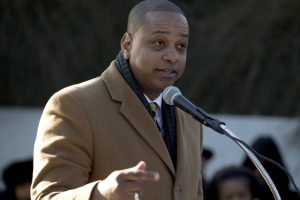 Virginia Lt. Governor Justin Fairfax is officially entering his name into the race for next Governor of the Commonwealth.
Fairfax launched his campaign on Saturday with a speech in Northern VA. The 2017 elect faced two sexual assault allegations last year in addition to calls for his resignation, which he denied both allegations.
He joins 9th district state senator Jennifer McClellan and 2nd district delegate Jennifer Carroll Foy, both of which have declared their intentions to run for the Democratic nomination.
Photo Courtesy: FILE – In a Monday, Jan. 20, 2020 file photo, Virginia Lt. Governor Justin Fairfax speaks during the 9th Annual wreath laying and ceremony at the Martin Luther King Jr. Memorial, in Washington. Virginia Lieutenant Governor Justin Fairfax formally kicked off his campaign for governor Saturday, Sept. 12, 2020 a year after facing two allegations of sexual assault.(AP Photo/Jose Luis Magana, File)