Gaming official: Virginia casinos unlikely to operate until April 2022 at earliest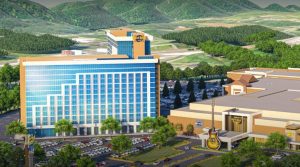 Hard Rock International and private Bristol, Virginia developers continue to plan for the lengthy and consuming licensing process that must meet Virginia Lottery standards.
There were comments from officials including City Manager Randy Eads of a temporary gaming house in a portion of the vacant Bristol Mall possibly welcoming gamblers by late 2021.
In remarks to a House appropriations subcommittee in Richmond this week, Lottery executive director Kevin Hall says any of the four approved casino projects will not have the first bet placed for two years.
Hall said it's the plans of identifying key management and operators then getting them licensed would likely take all of 2021 to complete. That would be followed by a vetting process for everything inside the casino—from the cards in the deck to the person dealing them.
"We think it is highly unlikely that even an operator seeking a temporary permit could actually be operating casino gaming until April of 2022 at the earliest," Hall told the committee.
(IMAGE: Hard Rock International / Hard Rock Hotels)