US Senator Lamar Alexander urges Trump to transfer power and start transition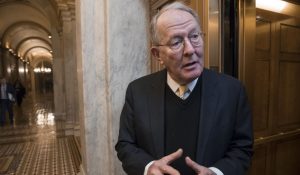 Retiring US Senator Lamar Alexander of Tennessee says it's time for President Donald Trump to start submitting vital information including COVID vaccine distribution to President-Elect Joe Biden for a smooth transition.
Legal experts have told the Associated Press that Trump has virtually no chance of winning legal challenges filed in several states and Alexander said Biden has "a very good chance" of being the next president.
My statement on the presidential election. pic.twitter.com/m4gXnhY8ZP

— Sen. Lamar Alexander (@SenAlexander) November 20, 2020
The senator also said that whoever has to concede will follow the example of Vice President Al Gore by putting the country first.
(IMAGE: Associated Press)