Ballad Health working to provide mental health relief to patients, staff affected by ongoing pandemic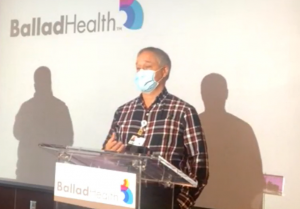 A potential nationwide crisis is growing under the cloud of the COVID-19 pandemic involving frontline workers and mental health, which is also being felt locally.
Ballad Health's Woodridge Hospital Clinical Programs Manager David Sapp was on hand during Ballad Health's weekly COVID-19 media briefing, and addressed how the facility is working to help patients and the staff treating them struggling with mental health. Last August, Woodridge developed a team of therapists and providers to go around the COVID units at different hospitals and assess what was needed, including if therapy or medication was needed to treat specific individuals.
Workers can treat mental health patients who are hospitalized with COVID and can also treat those awaiting disposition to a psychiatric facility. Sapp said in addition to seeing patients, the team also sees frontline workers, which he specifically mentioned that he has had informal conversations with them, who have been able to express their experiences and frustrations while on the COVID-19 frontlines.
"Frontline workers are really stressed out, and a lot of them won't tell you that because they do a good job and do the best that they can, but their stressed out too," said Sapp.
Sapp added that the increasing emotional trauma frontline personnel are taking while struggling to take care of the many sick COVID-19 patients is primarily brought on by the rapid rate of death from COVID and the connection to patients they make while treating them.
Despite this, Sapp said he has been amazed at how people been able to cope with COVID by using their faith, something that Sapp feels has blessed the patients he sees as well as himself.
The heavy burden is also taking its toll on the general public, and Sapp offered ways to help alleviate the stresses of navigating through the pandemic.
"If it's safe to do so, check on people. We need to FaceTime, call, text, and whatever means you can to check on neighbors and family," said Sapp.
Ballad Health continues to have near record high numbers of COVID-19 patients across its facilities, and as of Wednesday, the health provider was treating 321 patients including 67 being treated in the Intensive Care Unit and 43 of those patients on a ventilator.
Photo Courtesy: Ballad Health via Facebook Live