TVA says Boone Dam Reservoir repairs ahead of schedule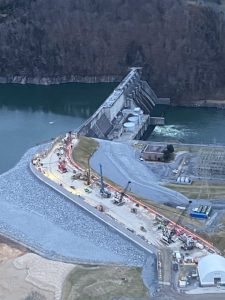 A top official with the Tennessee Valley Authority has announced the Boone Dam improvement project is progressing at a rate where repairs are a year ahead of schedule.
Principal project manager Sam Vinson recently told a gathering of the Northeast Tennessee Association of Realtors that TVA's current goal is to have the lake back up to or near summer pool levels this year, completing the chore of having the Boone Lake recreational area back to full operation by July 2022.
Vinson said achieving a balance for stakeholders who use Boone Lake for recreation is also a goal for dam repair including leaving vegetation that has grown since lake levels have been low for construction.
"The fishing (on Boone Lake) was phenomenal the last four or five years. (We) took a body of water and made it much smaller, so it was like catching fish in a barrel. But now, we're starting to look at what's it going to look like once the reservoir fills back up and how does that (fish) population recover, so we want to leave some vegetation but then obviously protect boaters," Vinson said.
(IMAGE: TVA)