UPDATE: Bristol, Tennessee police report fellow motorist on Highway 11 W helped diffuse domestic situation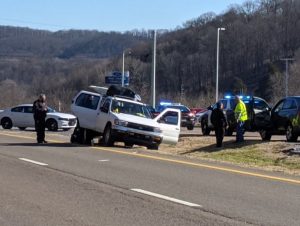 A report from Bristol, Tennessee police late Wednesday says a fellow motorist was instrumental in stopping an altercation on Highway 11W that ended with a gunshot and two people being taken to the hospital.
Capt. Terry Johnson said in the update that a male and female were in a physical altercation in the roadway when the witness pulled up and intervened although they were being threatened by the male involved in the dispute.
The man involved was reportedly shot while the female received physical injuries from the fight. Both were taken to a local medical center for treatment. Their identities have not been released.
Johnson said the case is still under investigation and possible charges are pending after consultation with the Sullivan County District Attorney's Office.
(PHOTO: K. Castle / SuperTalk 929 / Bristol Broadcasting Co.)