Griffith, Harshbarger vote against impeaching President Trump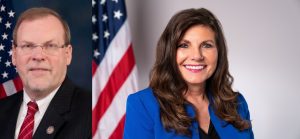 TN's 1st District Congresswoman Diana Harshbarger and VA's 9th District Congressman Morgan Griffith are among House Republicans to vote against impeaching President Donald Trump on a charge of inciting insurrection against the US Government.
Harshbarger was among lawmakers to speak on the house floor Wednesday against impeachment.
"The American people are watching to see how their elected officials respond at this moment in history. Will you vote to mend or will you vote to further divide this country? I'm urging you to use this opportunity to be the leaders the American people are seeking for such a time as this," Harshbarger said during her short address, which can be viewed by watching below.
Today, I spoke on the House floor for the first time to oppose the impeachment of President Trump. Watch my speech here. Like, and retweet below. pic.twitter.com/PfW5UZp8dJ

— Rep. Diana Harshbarger (@RepHarshbarger) January 13, 2021
Ultimately, house members including 10 Republicans voted 232-197 to move forward with impeachment proceedings a week removed from a deadly insurrection at the US Capitol while lawmakers were working to certify the 2020 election results.
Photo Courtesy: Morgan Griffith/Diana Harshbarger Official Congress Photos