Northam touts agenda, state's COVID-19 response during State of Commonwealth address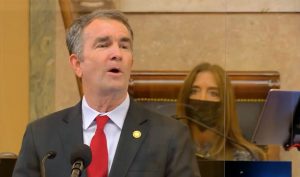 Virginia Gov. Ralph Northam has laid out his agenda for 2021 as lawmakers get the new legislative session going.
Northam addressed the state in an unusually empty house chamber Wednesday night due to the pandemic, and touched on the most important issues affecting Virginia as well as hopes he has for this year. The Govenor appeared to have bright hopes for 2021 by echoing how the state worked to move forward through the pandemic and racial and social injustice issues that were a dominating topic of discussion among residents and state leaders in 2020.
"We are moving past the burden of our history, taking action to shape a Virginia that reflects who we are and what we value. We step into this new year with a lot of hope, that the vaccines will end this pandemic, that we can get back to normal life, and that we can return to a time when government was just part of the background noise of daily life, not the top headlines," Northam said.
With the state's General Assembly session is now underway, Northam talked about a number of COVID-19 related proposals including dramatically increasing the amount of vaccines administered to 25,000 per day as now federal officials will allow those 65 and older to get a shot. Also on the mind of Northam is a proposal to increase teacher pay by more than 2% as education remains a top priority for legislators this year.
Other proposals Northam is in favor of include measures like legalizing marijuana, abolishing the death penalty, and restoring voting rights to convicted felons. To watch Northam's full address from last night, click here.
Photo Courtesy: Virginia Public Media