Report: Cowboys great and Elizabethton native Jason Witten announces second retirement from NFL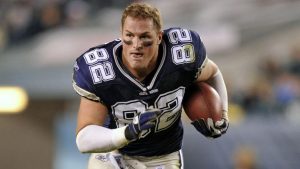 Elizabethton's Jason Witten, a likely first-ballot selection for the Pro Football Hall of Fame in 2026, announced his second retirement from the NFL on Wednesday, according to a report from ESPN.
His first retirement came in 2018 when he left the Dallas Cowboys and entered ESPN's Monday Night Football booth. He put down the headset and headed back to the field in Dallas after just one year in TV. In 2020, he signed a one-year deal with the Las Vegas Raiders.
Witten will reportedly sign a one-day contract with the Cowboys in March when his Raiders' contract expires. The one-time Cyclone set the NFL record for most games played by a tight end last season at 271.
(IMAGE: SuperTalk Archive)