Couple accused of shooting windshields in Hawkins County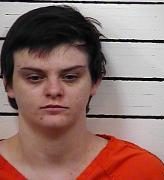 A Morristown woman and a South Carolina teenager are accused of shooting a BB gun at a Hawkins County homeowner and motorist earlier this week.
Tosha Marie Helton, 24, and Lee William Hudson, 17, are both charged with aggravated assault and vandalism, according to an arrest report from the sheriff's office.
Helton's charges stem from an incident on Slatter Road when she was denied access to a camper to retrieve some items. The victim said Helton began shooting at her while standing on a porch. The projectiles struck the home and busted out the back windshield of the victim's truck.
Hudson was seen on Old Highway 70 climbing out of the window of the couple's moving car and shooting the windshield of a passing car multiple times. The victim also captured photos from his smartphone of Hudson shooting at his car.