Appalachian State reaches milestone with record spring enrollment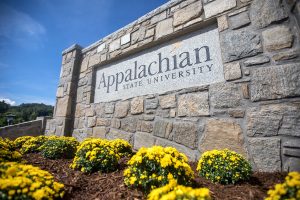 Officials at Appalachian State in Boone have reached another milestone despite the pandemic.
Chancellor Sheri Everts announced to faculty and staff the news of record numbers of students on campus and online for the spring semester that is a 3.6 percent increase from 2020. That follows a fall semester that also experienced record student enrollment with more than 20,000 including 18,000 undergraduates.
The chancellor also announced the school has taken delivery of items to help boost COVID vaccinations on and off-campus.
That includes new cold storage units that have the ability to hold 160,000 of COVID vaccine.
Everts noted that Appalachian State has filed paperwork with the North Carolina Department of Health and Human Services to be an open community site for vaccine distribution to serve the town and surrounding Watauga County.
(IMAGE: M. Freeman / Appalachian State University)