National Park Service announces September road closure for Cades Cove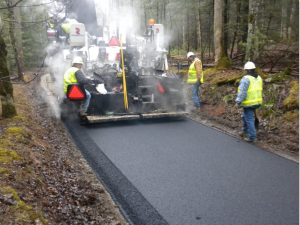 A popular tourist trail in the Great Smoky Mountains National Park will block all traffic later this year to repave roadways and parking lots.
The National Park Service announced the closure of Cades Cove Loop Road beginning Sept. 7 so that the necessary transport of trucks and other equipment can be managed on the narrow one-way road.
An existing project within the park on Forge Creek Road has been extended and will keep the road closed until the end of July as the service replaces five bridges in the Townsend area.
The paving project is anticipated to last three weeks although other road maintenance will be conducted over two months.
(IMAGE: Workers laying down hot asphalt in the Cades Cove area in 2010. -National Park Service)