Bristol and other Speedway Motorsports facilities host thousands for COVID vaccinations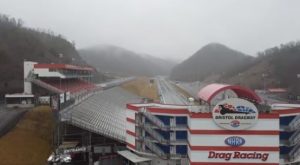 Speedway Motorsports, the parent company of Bristol Motor Speedway, has had more than 90,000 people receive their COVID vaccinations at one of their facilities.
A report from the Sports Business Journal says Bristol has joined Atlanta, Charlotte, and Texas Motor Speedway in providing state and local health officials with access to their properties to handle the traffic for large turnouts of residents who get the serum on designated days.
Medical professionals and volunteers at Bristol Dragway just wrapped up two consecutive days of administering shots to Sullivan County teachers and those in surrounding cities.
(IMAGE: Bristol Motor Speedway / Speedway Motorsports Inc.)