Red Onion prisoner files civil suit for injuries suffered in canine incident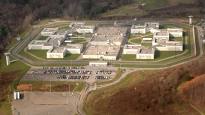 A current inmate at Red Onion State Prison in Wise County has filed a civil suit against the Department of Corrections after he was injured by a security dog.
Corey Johnson, 51, cited cruel and unusual punishment in the documents filed in court in Roanoke concerning the May 2020 incident where the canine was released by an officer following a fight resulting in Johnson receiving 20 stitches on his arm and hand.
A former inmate at the Sussex II State Prison has filed a similar suit. Both men are seeking financial settlements along with a court order that would end the use of security dogs in prisons in Virginia.
(IMAGE: ST 929 Archives)