Kingsport BMA approves PILOT agreement with Eastman for new recycling plant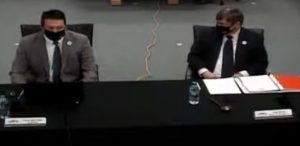 Kingsport city leaders have approved moving forward with a tax incentive plan with Eastman as the company prepares to build a $250 million plastic recycling plant.
The Board of Mayor and Alderman gave the go ahead for the city's industrial board to enter into a payment in lieu of tax, or PILOT agreement with the Kingsport based company during their meeting Tuesday night. All present board members voted yes except Alderwoman Jennifer Adler, who abstained in the discussion and vote.
The value of the agreement is around $10.5 million in savings of property taxes for Eastman over a 10 year period set to begin in 2023.
Kingsport and Eastman are also reaching an agreement for Eastman to donate five acres of property to the city near Borden Park. Kingsport is expected to receive around $4 million in property tax payments over the length of this agreement.
To read the full PILOT agreement, click here. (Pages 93-150)
Photo Courtesy: Kingsport Board of Mayor and Alderman Meeting via YouTube