Two child crime suspects arrested in Washington County, Tennessee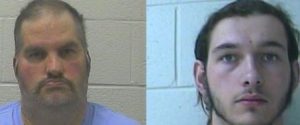 Two suspects in child-related felony cases out of state have been captured in Washington County, Tennessee.
A report from Sheriff Ed Graybeal says Charles Edward Carr, 49, of Johnson City, and, Michael Wayne Bowman, 20, of Chuckey, are being held without bond following searches fielded by his officers, the TBI, Virginia State Police, and town officers from Michigan.
Carr is accused of soliciting sex from a child under the age of 15 over the Internet in Virginia while warrants were taken for Bowman after investigators in Portage, Michigan said he seriously injured a juvenile.
(MUGSHOTS: L to R: Charles Carr, Michael Bowman WCSO TN)