NEW: Virginia House votes to abolish death penalty, bill heads to Northam for likely approval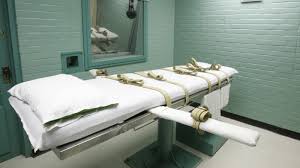 The bill that would end the death penalty in Virginia is now headed to the desk of Governor Ralph Northam.
The House of Delegates voted 57-43 to pass the legislation and the Commonwealth will become the 22nd state in the US to abolish the practice. Northam has already indicated he will sign the bill. The Southwest Virginia delegation in the House voted against the measure in its third and final reading.
Delegate Chris Hurst, whose fiancee WDBJ reporter Alison Parker and cameraman Adam Ward were killed on live TV by a former co-worker in 2015, voted to end executions. He said he would have killed the gunman had he not committed suicide but the US is a nation of laws not a nation of emotions.
.@ChrisHurstVA says people often ask what he would have wanted to see done to his girlfriend's killer, had he not killed himself. "I wouldn't have wanted the death penalty, I would have wanted to kill him myself. But we are not a nation of emotions, we are a nation of laws."

— VAPLAN (@vaplan2018) February 22, 2021
(IMAGE: Archives / AP)