Virginia AG Herring, others AGs supporting resolutions calling on President Biden to forgive student debt of up to $50,000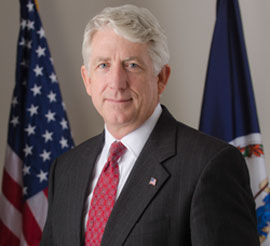 Virginia Attorney General Mark Herring has joined a growing list of state prosecutors calling on the adoption of House and Senate resolutions to cancel federal student debt of up to $50,000 for college students and graduates across the country.
Herring and 17 other AG's addressed House and Senate Majority and Minority leaders to move forward with passing these resolutions which calls on President Joe Biden to use executive action under the Higher Education Act to move forward with forgive college loans that equate up to $50,000.
"Hundreds of thousands of Virginians are suffering under the crippling weight of federal student loan debt, which in turn affects almost every other aspect of their lives," said Attorney General Herring. "Black and Latinx communities in Virginia are particularly affected by the burden of student loan debt and giving them this relief could substantially increase their household income. Too often, a Virginian is held back in life because of student loan debt and it's time they get the help they deserve."
Herring and others say these debts have been made more difficult to pay because of the ongoing pandemic and the current repaying system for student loans provides insufficient opportunity for these borrowers to manage their debt.
To read the full letter, click here.
Photo Courtesy: Office of the Virginia Attorney General