Police confirm UT linebacker under investigation for potential animal abuse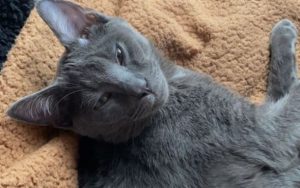 The Knoxville Police Department confirms UT sophomore linebacker Aaron Beasley is under investigation in an animal abuse case involving the pet of his girlfriend's roommate.
The owner of the cat named Nugget alleges on a GoFundMe page set up for the animal's care that Beasley hit, kicked, and held the feline by its tail.
The 6-month-old feline has brain damage, a hemorrhaged kidney, and is now being treated in an oxygen tank. The fundraising page has collected more than $4,500 in donations to help with Nugget's treatment.
Tennessee Football Player Under Investigation for Allegedly Abusing 6-Month-Old Kitten https://t.co/NJKuXkhDg3

— TMZ (@TMZ) April 5, 2021