UPDATE: Governor's warrant issued for Castlewood child abuse suspect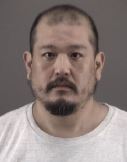 A governor's warrant has been issued for a Castlewood, Virginia father who has been lodged in a North Carolina jail awaiting child abuse arraignment.
The warrant will expedite the transfer of Michael Park from Forsyth County to Southwest Virginia where he and his girlfriend are accused of leaving a severely disabled 12-year-old in an outdoor building for weeks with little heat.
The boy had both legs amputated due to frostbite from the cold conditions.
(MUGSHOT: Bristol Broadcasting Archive)