UPDATE: Bulls Gap factory worker dies after Sunday accident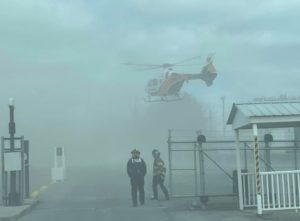 A worker who suffered several injuries Sunday at a Hawkins County manufacturing plant has died according to a state agency.
An investigation is now underway to review the events at the Barrette Outdoor Living facility in Bulls Gap where the individual reportedly became trapped in a piece of machinery.
The Tennessee Occupational Safety and Health Administration will have preliminary results on the case sometime in June based on estimates.
(IMAGE: A medical helicopter lifts off from the Barrette Outdoor Living plant in Bulls Gap Sunday. A worker who was reportedly caught in a piece of machinery was being flown from Hawkins County to Knoxville for emergency treatment. TOSHA reported the worker died but the official cause of death is still under review. Bulls Gap Fire Department / Official Facebook)