Johnson City 29-year veteran awarded permanent promotion to Chief of Police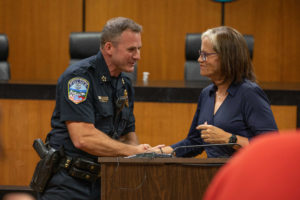 The interim tag was removed from Johnson City Chief of Police Bill Church as City Manager Cathy Ball announced Church's permanent promotion to lead the department.
Church is a 29-year veteran of the force that includes a promotion to Operations Major last summer before he was selected as interim in February due to the retirement of Chief Karl Turner.
At Tuesday's press conference, Church listed recruitment, retaining current officers, and strategies to reduce crime as his top priorities.
(IMAGE: Provided by City of Johnson City, TN)