Convicted murderer indicted for stabbing death of registered sex offender at Johnson County prison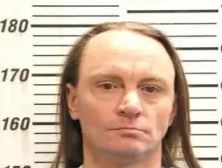 A Northeast Correctional Facility inmate is accused of stabbing a fellow prisoner several times during an altercation earlier this year.
A TBI report says Gregory Barner, 49, was indicted by a Johnson County grand jury on one count of first-degree murder. Prosecutors said Barner stabbed 71-year-old Robert Henry Hicks, Jr. resulting in his death.
State records obtained by Bristol Broadcasting show Barner was convicted of second-degree murder in Knox County in 2015 while Hicks was a registered sex offender.
In a press release issued by the city of Knoxville, Barner was charged in the stabbing death of a man who was staying in a homeless camp near Kingston Pike. He was also wanted by the FBI for charges in a Texas case.
(MUGSHOT: Supplied by TBI)