Amber Alert for 7 month infant continues, believed to be in extreme danger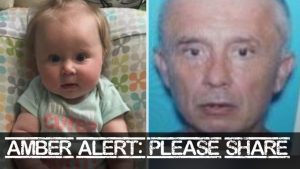 The Amber Alert continues for a missing Danville, Virginia infant. She is believed to be in extreme danger.
Emma Grace Kennedy is seven months old and is believed to have been abducted by Carl Ray Kennedy on Sunday night. The incident occurred at the Kwik Stop on Riverside Drive in Danville, which is about three hours from our area.
Carl Ray Kennedy was possibly seen near Seven Springs, North Carolina on Monday evening. It it believed he could be headed to Oak Island, North Carolina.
Kennedy is a registered sex offender in North Carolina. Police believe he could be armed with a knife. He was last seen wearing a brown shirt, gray pants. He has gray hair and green eyes. He also has multiple tattoos, including an eye tattoo o the back of his right hand.
The license plate to look out for is a North Carolina tag reading EKZ-503. He is said to be driving a 2007 Gold Suzuki four-door Forenza.
Anyone with information is asked to call the Danville Police Department or Virginia State Police.