Science Hill Pedestrian Bridge to be demolished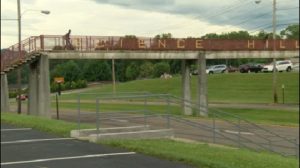 Plans to demolish a well known bridge in Johnson City has sparked a heated debate from members of the community.
A pedestrian bridge at Science Hill High School has been around for multiple generations of graduates, and those who attended the Johnson City high school are disappointed about the decision to demolish the bridge.
The Johnson City public works department is making the decision to close the bridge. Safety flaws were discovered and repairs would cost a hefty $1.3 million dollars. Officials confirmed that money is just not in the budget, leaving the only option to tear down the bridge.
The bridge is officially closed, and demolition will start Monday evening at 6:00 P.M. John Exum Parkway will be closed during the procedure, which could take up to twelve hours. City officials are asking people to avoid the area until completion.