Jonesborough Mayoral Candidate Under Investigation for Being Inside Polling Boundary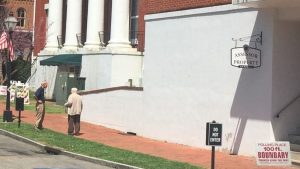 A photo that appears to show Jonesborough Mayoral candidate Joe Grandy inside the polling boundary of the towns courthouse is now being investigated by the Washington County, Tenn. Election Commission.
According to commission Grandy has been warned once already in April for a similar incident. They now seek guidance from the district attorney's office regarding the matter.
It is not known at this time whether or not the district attorney will move forward with any charges for violation of state statute.