Strategic Behavioral Health to Open New Hospital in Kingsport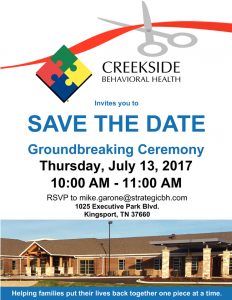 A new inpatient health hospital is set to open in Kingsport on Monday.
Creekside Behavioral Health will hold a ribbon cutting ceremony from 12:45-1:30. A list of speakers will be on hand including Sullivan County Mayor Richard Venable and Creekside Behavioral Health CEO Brandon Wardell. In addition to the ceremony, an open house will be held from 12:00-6:00 P.M.
The new facility is a part of the group Strategic Behavioral Health. Services that will be provided at the hospital include therapy, treatment planning, detoxification and substance abuse treatment. To learn more about the new hospital, visit creeksidebh.com.