Man Almost Hits Three Officers with Vehicle During Escape; Still on the Run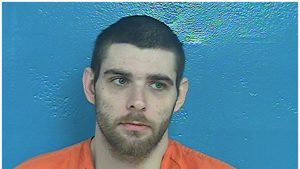 Bristol, Virginia Police are searching for a suspect who attempted to run three officers over and lead police on a Wednesday morning pursuit before getting away.
Police responded to a call at Jones Manor of a man reportedly brandishing a firearm. When they arrived, 26-year-old Billy Stratton took off, nearly hitting multiple officers with his truck, and leading police on a chase that crossed over to the Tennessee side.
Officers say Stratton crashed into a fence behind the American Legion building and took off on foot, evading capture.
Police have described the vehicle Stratton used during the pursuit to be a gray pick-up truck, but have yet to identify a make or model.
The man has been charged with attempted capital murder of a police officer and felony eluding. He is also wanted for a probation violation
Stratton is a white man with dark hair. He is described as armed and dangerous. Anyone with information on his whereabouts is asked to call police at 276-645-7400