Bristol Tennessee Police Seeking to Identify Three Suspects in Auto Burglary Case in Fairfield Acres Subdivision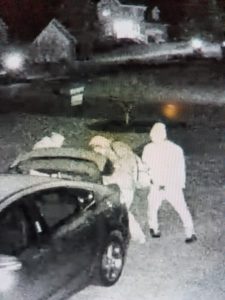 The Bristol Tennessee Police Department are asking for the public's help in identifying three suspects connected to a string of auto burglaries in the Fairfield Acres Subdivision.
Police have released surveillance footage of the suspects roaming in the neighborhood around the 4 A.M. Tuesday morning. The department says the suspects were going to different driveways looking to find unlocked vehicles and steal money or change.
Police request that anyone who has information on the identity of the suspects should contact Detective Mike Nygaard at mnygaard@bristoltn.org or at (423)-989-5529.
The Bristol Tennessee Police Department recommends taking the following steps in protecting your property and to discourage would-be criminals from committing auto burglaries:
– Do not leave valuable items in your car such as phones, laptops, tablets, purses, shopping bags, or any other portable electronics.
– Do not leave lose money or change visible in your car.
– Close all windows and lock all doors before leaving your vehicle.
– Park in well-lit areas or install motion lighting if possible.
– Make a copy of your registration and insurance, and keep them in your wallet or purse.  Then remove all forms of identification from your vehicle. 
– Do not leave garage door openers in parked vehicles.
– If you are parking your vehicle for several days check on it periodically.