Johnson City Police Arrest Man Accused of Stealing Jeep and Leading Officers in Pursuit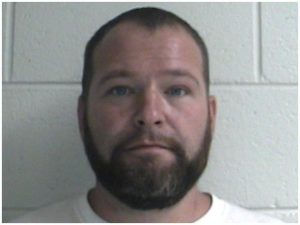 A Piney Flats man is in jail after allegedly running from police with a stolen jeep.
According to the Johnson City Police Department, they investigated a report of a motor vehicle theft from a home on Knob Creek Road. While in route, they spotted a Jeep Cherokee that matched the description of the stolen vehicle. Police conducted a traffic stop on suspect Mickey Walker, 35, but Walker pulled off from the stop, initiating a pursuit. Officers discovered the Jeep had crashed just a few minutes later near South Austin Spring Road. Walker was detained and taken to the Johnson City Medical Center to be treated for his injuries.
He was then formally arrested, and handed numerous charges including theft of a motor vehicle, felony evading arrest, DUI 5th offense, and DORL 2nd offense. He is currently held in the Washington County Detention Center with arraignment scheduled for Friday morning at 10:30 A.M in Washington County General Sessions Court.
Courtesy of Image: Washington County Detention Center