JCPD: Kingsport Man Found Passed Out in Vehicle, Arrested on Active Warrants, Accused of Attempting to Escape from Hospital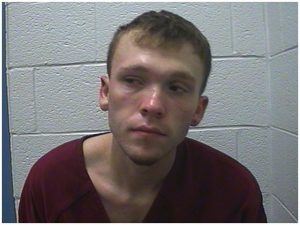 A Kingsport man is in jail after attempting to escape police custody from the hospital he was taken to.
According to Johnson City Police, they responded to a call at a Walmart parking lot on 3111 Browns Mill Rd. Sunday night, of a subject passed out in a vehicle. They discovered Jared W Light, 22, inside the vehicle, which officers later determined was reportedly stolen out of Kingsport. Police also found that Light had active warrants against him, and authorities took him into custody. Light requested to be taken to the Johnson City Medical Center for medical treatment, and while there, attempted to escape on foot.
Authorities arrested him following a brief foot pursuit. He was taken to the Washington County Detention Center and received a preliminary court hearing Monday in Washington County General Sessions Court. He remains in jail.
Courtesy of Image: Washington County Detention Center