Denial of parole recommended for man convicted in 1989 killing of 15-year-old girl in Bristol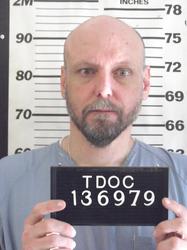 A parole board member is recommending denying parole to a man convicted in 1990 of choking his girlfriend to death outside of the Skate Inn in Bristol.
Jack Shuttle appeared for a parole review Thursday, and according to Dustin Krugel, Tennessee Board of Parole spokesperson, a parole member voted to deny parole and recommend a review date of January 2022.
Krugel says four concurring votes must happen before parole could be granted or denied, and that decision could happen within the coming weeks.
Shuttle was found guilty in 1990 of killing his then 15-year-old girlfriend Brandi Sims the night of December 29th, 1989. Court documents say Sims was looking to terminate her relationship with Shuttle, resulting in the two getting into an argument, that turned into a physical altercation, resulting in Shuttle choking Sims to death.
He is currently serving a life sentence at Northeast Correction Complex in Mountain City, TN.