Church Hill Police: Several suspects in custody in case of stolen vehicle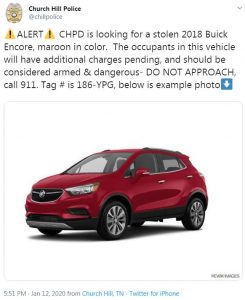 Church Hill Police say several individuals are in custody after law enforcement recovered a stolen vehicle.
An initial social media post Sunday evening from the department reported a 2018 Buick Encore to be stolen. A follow-up post Monday morning says that vehicle has been recovered with the help of the Hawkins County Sheriff's Office and Scott County, VA Sheriff's Office.
Courtesy of Image: Church Hill Police Twitter