VDH monitoring possible cases of coronavirus, website launched to give residents more information about virus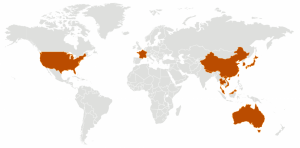 The Virginia Department of Health is monitoring three potential cases of the coronavirus across the Commonwealth.
The state's health agency in a news release says due to the increase in cases worldwide of the virus that was first detected in Wuhan, China, they are creating a website to provide the latest info about the virus to Virginia residents.
Three people, including two in central Virginia and one in Northern Virginia are being examined for symptoms that meet the standards for the virus.
If you are interested in learning more about the coronavirus, click here.
Courtesy of Image: cdc.gov (Map shows countries who have confirmed cases of coronavirus)