Tazewell County, VA Sheriff's Office asking public to vote on name for new dispatch puppy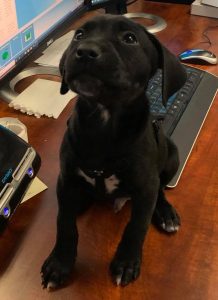 The Tazewell County Sheriff's Office need your help with something very important.
Dispatchers with the office recently adopted an 8 week old lab/pit mix who has now become the official dispatch service dog, who will soon be an ambassador for dispatch, as well as making visits to schools and nursing homes. There's just one problem, he doesn't yet have a name. Now the public gets to make that decision, as on Facebook, Tazewell County is giving four names to chose from, including Mischief, Rookie, Taser, and Creed.
You can vote by commenting underneath the Facebook post, and voting ends Monday February 3rd at 3:00 p.m.
Courtesy of Image: Tazewell County Sheriff's Office