Police: Man with chest gunshot wound brought to Greeneville hospital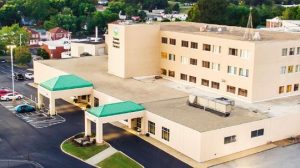 Greeneville police are trying to piece together the circumstances behind a Friday shooting that left one man wounded. Investigators came to Greeneville Community Hospital after they received word of a black male who was dropped off with a gunshot wound to the chest.
Police said the victim was uncooperative about talking about the details of the shooting and was later transported to another medical facility. So far, the only clue is a driver in a silver Ford Escape with right rear damage dropped the patient off. The driver was described as a bald black male with a beard.
Anyone with information on the shooting can call Greeneville police at (423) 787-6193.
(PHOTO: Ballad Health)