EPD: Charges pending in Tuesday head-on crash on Milligan Highway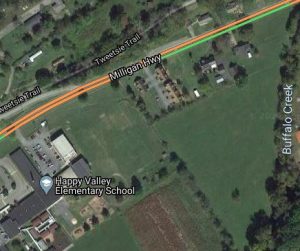 Charges are pending following a head-on crash Tuesday afternoon that temporarily shut down Milligan Highway in Elizabethton.
A Wednesday morning update from the Elizabethton Police Department says around 4:00 p.m yesterday, a 2001 Chrysler Sebring traveling northbound around the 1800 block of Milligan Highway, traveled into the southbound lane and struck a 2007 Chevy Suburban head-on. Several agencies responded to the scene, and both drivers were transported to the Johnson City Medical Center.
Carter County 911 tells Supertalk crews were on scene for well over two hours. The investigation remains ongoing, but names of the individuals in the crash have yet to be released.
Courtesy of Image: TDOT