UPDATE: New MLS stadium could accelerate Bristol Motor Speedway's plans to bring racing back to Nashville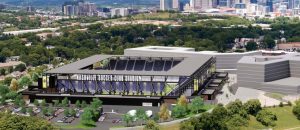 Bringing NASCAR racing back to the historic Nashville Fairgrounds has been proposed by Bristol Motor Speedway executives and its parent company Speedway Motorsports.
Those talks will likely accelerate with the announcement of a new Major League Soccer stadium to be constructed adjacent to the track property becoming official this week.
BMS General Manager Jerry Caldwell was in Nashville this week to speak with Governor Bill Lee and city officials. A team in Bristol would help with the management, construction of upgrades and operation of one of the oldest tracks in the US.
Dale Earnhardt, Jr. has stated he would add another race to his retirement schedule if the track was brought back as a stop on the national series.
(PHOTO: Major League Soccer / Nashville SC)