Delegate Kilgore: Drafts of new Virginia energy policy are wrong and rushed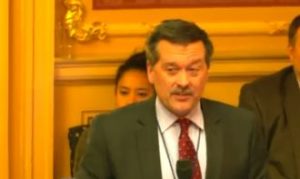 A Scott County lawmaker says a proposed bill to cut carbon emissions and greenhouse gases by 2050 is a gut punch to the region's economy.
"Pulling the rug out from under us and closing down the cleanest coal plant, the cleanest in the world right now that's running is just a slap in the face to Southwest Virginia," said Gate City Delegate Terry Kilgore on the floor in Richmond.
Kilgore is voicing concern over House Bill 1526—the Virginia Clean Economy Act that would require the closure of coal plants like the Dominion Energy's nine-year-old Virginia City plant that also provides $6 million annually in taxes to Wise County.
Kilgore said the approach to this environmental-friendly bill has been rushed.
"In the past week, we've have put out four or five bills that contradict each other, ladies and gentlemen. This is not a way to do energy policy. It is rocket science. It is tough. You have to put in the hours in to do it," he said.