BOGO Ticket Offer: The Hillbenders – WhoGrass!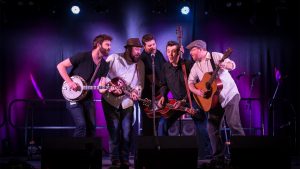 Paramount Bristol presents Hillbenders – WhoGrass! Saturday, February 29, 2020
48 hour flash sale – Use promo code WHOAREYOU to buy-one ticket get one ticket free. Offer expires Friday, 2/21/2020 at 8:00am ET. https://www.paramountbristol.org/shows/the-hillbenders-whograss/201909061604167653
In 2015, The Hillbenders launched a brilliant bluegrass remix of the Who's iconic rock opera Tommy. Inspired by support from The Who themselves and fans around the world, they launched WhoGrass. With a perfect mix of acoustic musicianship and rock n' roll showmanship, The Hillbenders take us on a journey through the Who's legendary catalog. They play selections from Tommy in the first set and the Who's greatest hits in the second. The rolling banjo, intense dobro percussion, and thunderous vocals will have even the biggest Who fans pumping their fists and singing along!