TBI has located vehicle in question in case of missing Evelyn Boswell, officials still searching for child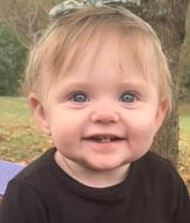 A vehicle authorities have been searching for in the case of missing 15-month old Evelyn Boswell has been located in Wilkes County, NC.
According to an update from the TBI, a gray 2007 BMW and the individuals authorities were seeking were located over the state line, however, officials say Evelyn Boswell is still missing.
If you have any information on the whereabouts of Boswell, please contact 1-800-TBI-FIND or the Sullivan County Sheriff's Office.