DEVELOPING: Middle Tennessee tornado death toll climbs to 19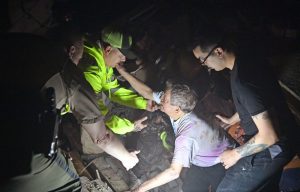 "Our hearts go out to the Tennessee families who are hurt by the severe tornadoes last night."
US Senator Lamar Alexander sending concerned thoughts to those affected by tornadoes early Tuesday that left several dead in its wake. The Associated Press has reported 19 fatalities as emergency teams continue to comb through flattened homes and businesses.
"We know the need for resources, for cleanup are going to be paramount and we really are prayerful for all these families who have been so adversely impacted and for the loss of life."
Fellow Senator Marsha Blackburn says her office has been in contact with Gov. Bill Lee and county mayors to assess what federal programs and tools will be needed in the coming weeks.
President Donald Trump said in a tweet that his office continues to monitor the situation while promising federal help and offering prayers.
(PHOTO: Bill Wallace reaches out to rescue workers who freed him from his home that collapsed on him and his wife Shirley trapping them under rubble after a tornado hit Mt. Juliet, Tenn., early Tuesday. – Larry McCormack/The Tennessean via AP)